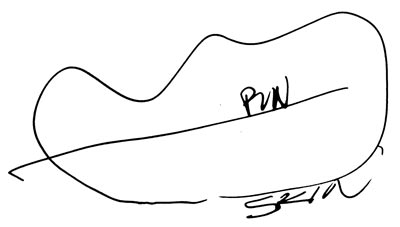 Today was a relaxed slow paced exploration of the Kunsthaus. The dramatic entrance of rising up an escalator (pin) into the belly (skin) of the alien is enjoyable, I repeated it a few times, getting some nice steady video shots! The first exhibition space (Space 02) is very dark, much darker than most exhibition spaces I've been to, but the work of Karl Neubacher who is exhibiting was well presented. I was quite surprised by the interior skin – a dark grey, triangulated mesh, that seemed so distant and detached from the translucent exterior panels. Peering through the gaps I could appreciate the thickness of the skin, easily more than 1 metre, somewhat counter to the thin and flexible characteristics of the 'skin' that I had in my head.
Skin & Pin by Peter Cook
Moving up to Space 01 I was presented with a vast open space, warehouse like, filled with the playful, colourful work of Katharina Grosse, that I really wanted to touch – It's so annoying how so many tactile exhibitions can't be touched, quite a pet peeve of mine. This space has the nozzles that in theory bring light in, but as they seemed to be constantly supplemented with strip lighting, have they become redundant? The needle was by far the most enjoyable space to be in, aside from what seemed like excessive structure blocking your view. However it's not an exhibition space, you couldn't control the lighting etc.