Unit E Exhibition
Oxford Brookes School of Architecture · BA Year 3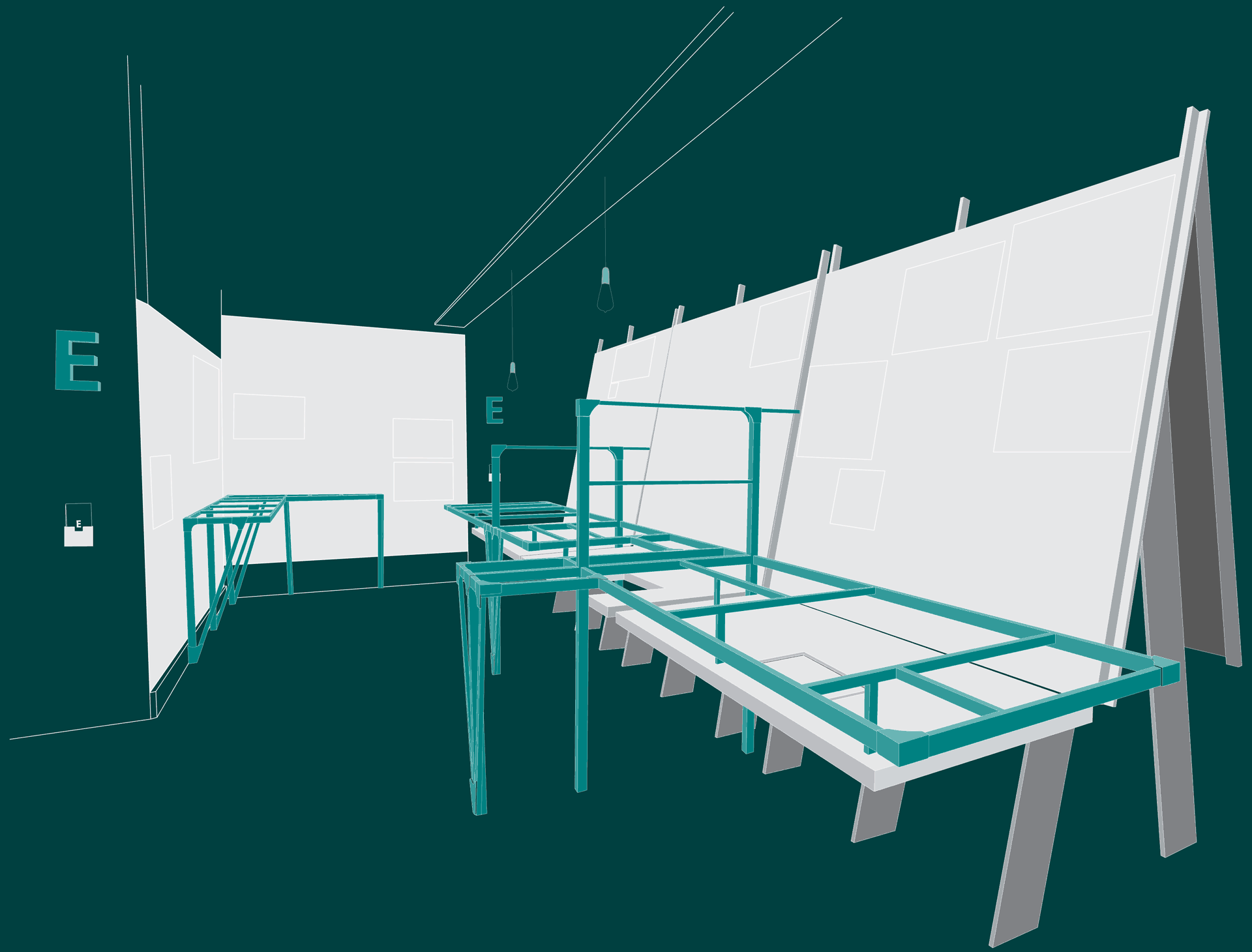 LOCATION
Plumb-line from site location on Parma map to model.
Floating Frame
Designed to accommodate a large range of models and drawings from Unit E 2015. Student projects focused on a range of public buildings regenerating parts of Parma, Italy. A teal coloured timber frame floats above the existing flat display surface, lightly touching the ground. The frame allows for a large model with bespoke supports to hover above a lower layer of sketch models, material tests and artifacts related to the same project. Plumb-lines hanging above the physical models trace back to their location on a city map.
DRAWING FIXTURES
Bespoke corners, lifting the drawing and creating a shadow gap.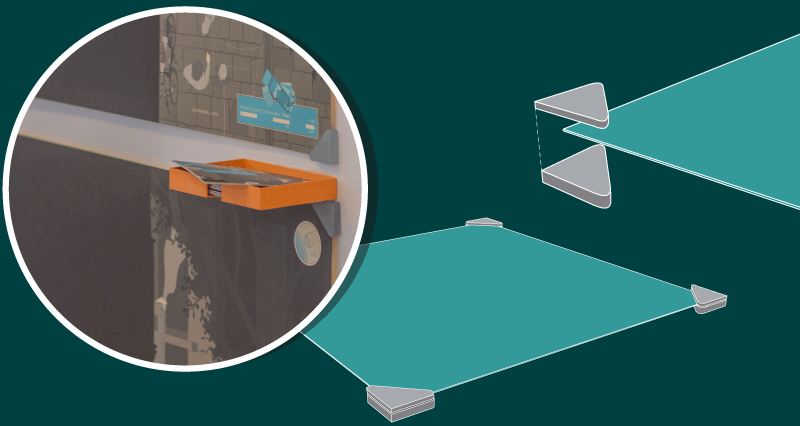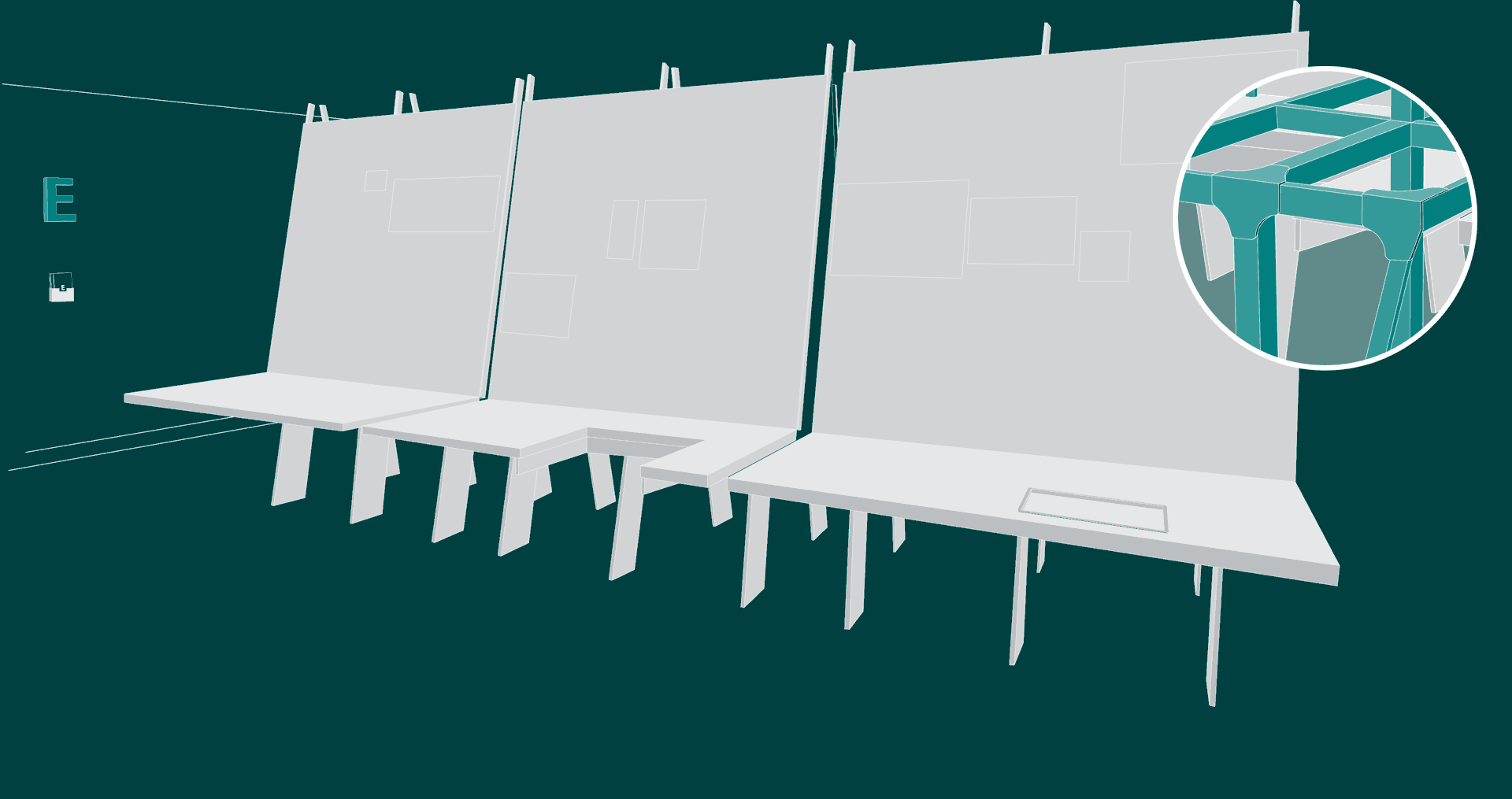 STRUCTURE
Timber frame floats above existing flat display surface.
TO PARMA
Screen integrated into display table with video documenting Unit E research trip to Parma, Italy via Lyon, France.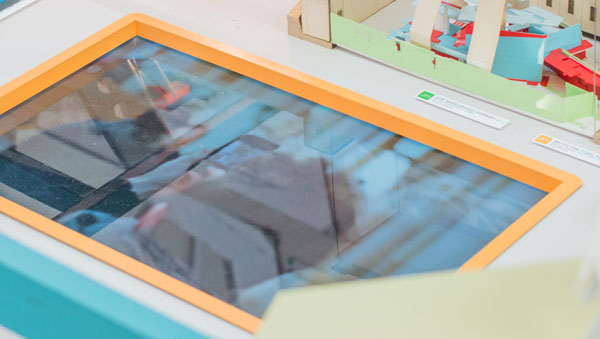 London Redesign
After success in Oxford the frame was redesigned to be the main feature at the Oxford Brookes School of Architecture exhibition in London. It accommodated a new range of models from different design units alongside Unit E. This involved creating a new lower table with improved lighting system.
LIGHTING & SPACE
Integrated lighting for work above and below the frame. Cut-out space allows you to get close to and amongst the models.
LOCATIONS
Oxford Brookes University, Oxford & Clerkenwell Gallery, London
DESIGN Theo Jones, Jacob Riman & Dylan Radcliffe-Brown
LEAFLET DESIGN Jacob Valvis, Johnnie Llewellyn & Theo Jones
TEAM
Aylin Bayhan, Faye Greenwood, Sagarika Kaimal, Robert Pennington, Kara Thompson, Diana Daoud, Joe Hazelwood-horner, Luke Hughes, Theo Jones, Abby Liu, Johnnie Llewellyn, Rebecca Outterside, Betty Poon, Dominic Ramli-davies, Jacob Riman, Jacob Valvis, Dylan Radcliffe-Brown and Karolien Yperman